Our CEO :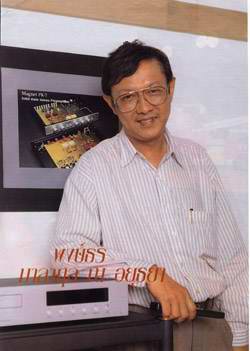 Pongtorn Malakul Na Ayudhya
Long ago, I had vision of building remarkable sounding amplifiers at a remarkably affordable prices. Of course, it would never been easy way to do this. If anyone read my mind, they will asked me the tough question "Are you going to make a business out of building amplifiers?" while the prospect of doing so had never occurred to me, the answer leaped out of my mind would be "Yes".
With that decision, I had been fighting to those among us who had looked down for thai amplifiers, audio system made from our home land, right all along. In the beginning, I sold amplifiers kits to the students who went to college, the amateur. Years later, I can sell the real amplifers to real mid end buyers. And it is only the beginning.
If you talked to me, you would know I have seriously focus on high end stereo system, not bother the mass product industry. Therefore, the circuit is composed of fine parts and it is done by hand.
No matter how craftsmanship we are, the obstacles we have always faced is the high cost of parts. We have to import most of the parts. Even that, made-in-Thailand products cannot be set for higher prices than those from foreign countries.
Back to 30 years ago, I got hired by Philips for 9 years. I recalled that my first assignment there was to design the audio system for the parliament. Then, I was hired by zercon for years to designed amplifiers. At that time, I knew I do not want to be employee my whole life. I started to open my stereo box, NAD Turntable Microseiki amplifiers and Infinity RS-8B three way speakers, I have been listening at my home for a long time, to study the circuit inside. Then, I designed stereo circuit projects with my team pressed in Semiconductor, a magazine published by Se-education, our distribution channel by that time.It turned out we sold a million baht within months, from what started at a budget of 100,000 baht. Sooner, I made PR-3a amplifier and I have sold amplifiers since then.
Ten years later, the light went on, when Richard N. Marsh came to visit me at my office and we became partners, when Vern Smith is our marketing partner. We found Marsh Sound Design together to sell Marsh amplifiers in US. Richard N. Marsh said to me, when he came to our factory "I found factory I had dreamt of for 20 years."
At first, Marsh circuit adapted from Magnet circuit and we adapted Marsh circuit to upgrade Magnet. Then, A400s was born and sent to do a test conducted by The Absolute Sound, major hi end magazine in US. Thrill me, the review was positive. Robert E. Greene, the articles writer, showed "amazing improvement on sound definition" when using Marsh amplifier on stereo system. He compared us with the phrase that "a great engineer who can do for a dime what anybody can do for a dollar". He also implyed that our A400s amplifier is the boon to the customer to get extraordinary amplifier at 1/10 price of retail.
I would like to tell to other manufacturer that "we should do the best as we can and keep on with that standard. we should compete with ourself and one day someone will see it, as we plant a seed, we keep watering it, the flower will bloom itself."